Back to top
Gold Wallpaper
Introducing our exquisite gold wallpaper collection, designed to add a touch of opulence and sophistication to any space. Discover a stunning range of gold wallpapers featuring intricate patterns, from classic gold designs to captivating 
abstract motifs
. Immerse yourself in the allure of metallic gold wallpaper, elevating your interiors with a luxurious sheen and a timeless appeal. Transform your walls with our captivating gold wallpaper today.
This curated selection of gold wallpaper ensures a perfect blend of elegance and style for your home or office. Our gold wallpaper collection boasts exceptional quality, featuring an ultra-wide design that ensures seamless coverage for any wall. With a luxurious matte finish, our
wallpapers
preserve the intricate detailing of each design, elevating your space with a flawless and refined look.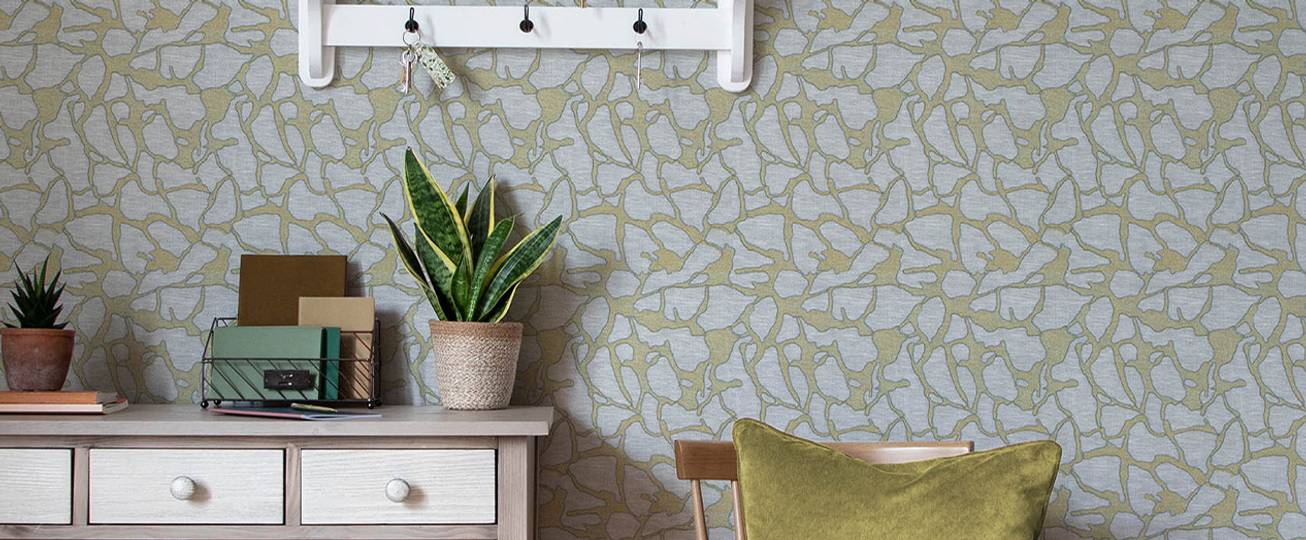 Gold Wallpapers at Voyage Maison
Our gold wallpaper collection at
Voyage Maison
combines timeless luxury with modern elegance, offering a wide range of designs to elevate any room. With a focus on plains, textures, and prints, all on wide-width paper, our gold wallpapers infuse warmth and sophistication into your living spaces. Embrace the captivating metallic shine that allows light to bounce around the room, creating a unique and enchanting ambience.
What Colour Goes With Gold Wallpaper?
Wondering which other colours pair beautifully with gold wallpaper? You have an abundance of décor options to explore. Deep accent colours like navy and black create an elegant and chic feel, while lighter accent colours like cream or white offer a soft and breezy atmosphere. Experiment with complementary shades and textures to design a truly unique space that reflects your personality and style. Unleash your creativity and take inspiration from the current colour trends when you're choosing your new wallpaper.
Black and Gold Wallpaper
Elevate your interior with the classic combination of black and gold wallpaper. The striking contrast between the two colours exudes elegance and opulence. Explore our
black wallpapers
, perfect for creating a luxurious and contemporary feel. This pairing complements modern furniture and décor effortlessly. Add metallic accessories and soft lighting to enhance the lavishness of the room, creating a chic and stylish space.
Cream and Gold Wallpaper
For those seeking a softer and lighter tone, cream and gold wallpaper is an excellent choice. This pairing brings a sense of sophistication and warmth to your space. Explore our selection of warm
cream wallpaper
and find your perfect match. The subtle harmony between cream and gold adds a touch of luxury to your interior without overpowering the room. Combine with wooden accents and plush furnishings for a cosy and inviting atmosphere.
Blue and Gold Wallpaper
Indulge in the regal allure of blue and gold wallpaper. This combination infuses your space with a sense of grandeur and majesty. The rich blue hues complement the golden accents, creating a mesmerizing visual effect. Pair gold and
blue wallpaper
with velvet or satin fabrics and ornate accessories to enhance the royal ambience of the room.
Grey and Gold Wallpaper
Embrace the contemporary charm of grey and gold wallpaper. This sophisticated pairing brings a modern twist to classic luxury. We offer a huge selection of
grey wallpaper
that makes the perfect pairing with gold. The cool tones of grey harmonize with the warm glow of gold, striking a perfect balance. Integrate plush textiles and modern metallic décor to achieve a refined and trendy interior.
Experience the allure of gold wallpaper and explore the endless possibilities it offers to transform your living spaces. Whether you prefer classic textures, contemporary prints, or
minimalist plains
, our
wide-width wallpaper
ensures you'll find the perfect design for every room. Unleash your creativity, pair it with your favourite colours, and create an interior that radiates timeless luxury and modern elegance.