Back to top
Pink Cushions
From romantic blush hues to fun vibrant fuchsias, our collection of pink cushions has the ability to brighten or add softness to any space. Available in a variety of beautiful shades, luxury fabrics, and designs, our pink cushions bring a feminine, gentle touch to your interior. Whether you're looking for blush pink cushions for a calming, feminine feel or hot pink cushions for a bold and bright finish, we have something for everyone here at Voyage Maison. Shop this incredible collection of pink cushions today!


Pink Cushions are perfect for creating an air of elegance in your space and can be styled in a variety of different interiors to achieve your desired finish. Pink and grey cushions are a popular choice for a modern interior, whilst pink velvet cushions may be best if you want a bold, luxe finish. All of our pink cushions are expertly crafted and filled with a plush duck feather inner for superior quality and comfort.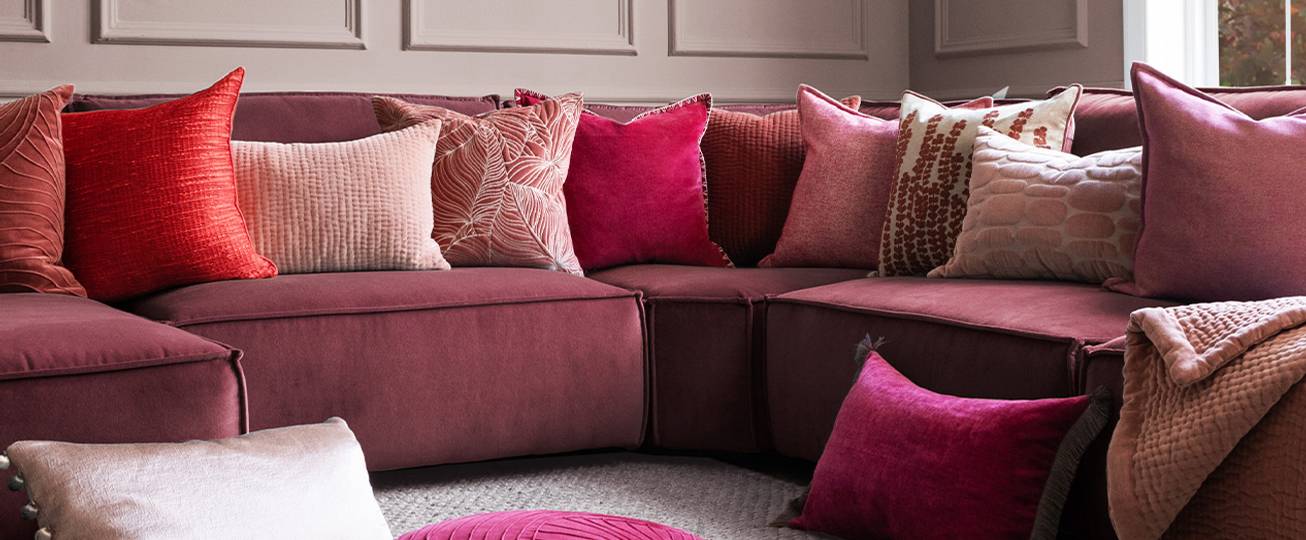 Bright and Blush Pink Cushions
Discover a delightful collection of designer pink cushions from Voyage Maison. With hundreds of styles and designs to choose from, we've made finding the perfect pink cushion easy. Whether you're looking for a dusky pink cushion for a calming atmosphere or a bright pink velvet cushion to add texture and character to your space, we have something for everyone.

Our selection of cushions features plains, prints, rich textures and classic Voyage Designs to offer you both unparalleled quality and style. While traditionally feminine, pink can be used in a number of interiors. It may be considered warm and romantic, however it can also be used in neutral interiors or those that are a little more edgy.

Widely versatile, our pink cushions look great in girls' rooms and living rooms alike. If you're looking to create a more minimalist, neutral interior, then a plain pink cushion is the perfect choice. However, if you prefer to add a little more interest and character, pink patterned cushions are just the thing for you! We offer a wide selection of playful designs that inject life into any space.

Looking to add texture into your interior? Not to worry, when it comes to fabrics, we have an array of richly textured options. Whether you like the luxury look of pink velvet cushions, or the relaxed look of a linen cushion, you'll find it in this deluxe selection.

Perfect for both bedroom or living room, our collection of pink cushions is ideal for your sofa and your bed! They offer a plush, comfy finish to any space thanks to their quality duck feather inner. Delve into colour today and find the perfect pink cushion for your home.