Back to top
Pink Wallpaper
Introducing our delightful pink wallpaper collection that is sure to infuse your space with charm and elegance. Explore our diverse range of pink wallpapers, including cute
floral designs
, blush pink, pastels and bold fuschias.  These stunning wallpapers offer a perfect blend of sophistication and style, effortlessly transforming any room into a dreamy haven. Explore this incredible range of
plain
and patterned pink wallpaper today and add charm to your interior.
Pink is the perfect choice if you're looking to soften the look of your interior or add a feminine touch. Pair our pink wallpaper with our selection of
plain and textured cushions
in shades of blush, pastel, and baby pink. They're the perfect combination for creating a harmonious and delightful ambience. Discover the perfect combination of beauty and comfort with our enchanting pink wallpaper and coordinating accessories when you shop at Voyage Maison.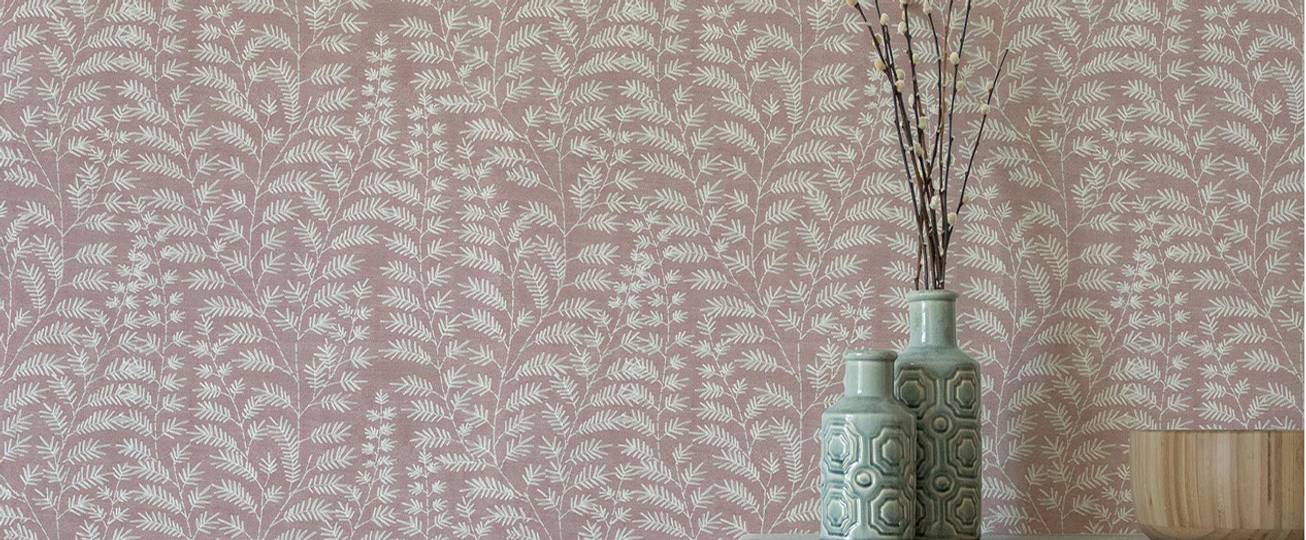 Pink Wallpapers at Voyage Maison
Explore our Pink Wallpaper Collection, where beauty meets serenity and style. Embrace the timeless allure of pink with our diverse range of shades and styles that are perfect for elevating any interior space. From delicate blush pink to soothing pastels, and captivating
floral designs
to versatile
plain wallpaper
, our collection caters to every taste and aesthetic preference.
Blush Pink Wallpaper
Indulge in the tender elegance of blush pink wallpaper, exuding a soft and romantic vibe. Its subtle hues effortlessly infuse warmth and sophistication into any room. Perfect for creating a cosy and dreamy atmosphere, blush pink wallpapers beautifully complement
bedrooms
,
living rooms
, or nurseries. Pair with ivory accents and gold embellishments for a touch of opulence. Or, blend with earthy tones to embrace a contemporary and natural look.
Pastel Pink Wallpaper
Transport yourself to a realm of gentle charm and grace with our pastel pink wallpaper selection. The muted tones of pastel pink create a sense of tranquillity and refinement, making them an ideal choice for living spaces and home offices. Pair pastel pink wallpaper with light wood furnishings for a Scandinavian-inspired interior, or combine it with soft blues and greens to evoke a calming and harmonious ambience.
Pink Floral Wallpaper
Embrace the beauty of nature indoors with our captivating pink floral wallpapers. From bold blooms to delicate petals, these designs add a touch of femininity and liveliness to any room. Ideal for accent walls in dining areas or entryways, pink floral wallpaper infuses spaces with an inviting and cheerful aura. Complement these wallpapers with white furniture and rattan elements for a chic bohemian look, or with dark wood pieces to create a classic and sophisticated appeal.
Plain Pink Wallpaper
For a more understated and versatile option, explore our range of
plain wallpaper
. Their simplicity allows them to adapt seamlessly to various interiors, from modern to traditional. Plain pink wallpapers are an excellent choice for those who desire a soft backdrop. They're perfect to enhance other decorative elements in your room. Style these wallpapers with bold patterns and textures throughout your space to add depth and character.
Whether you seek an enchanting and delicate atmosphere or a lively and captivating space, our pink wallpaper offers a diverse array of options to suit your taste. Explore the versatility of pink and transform your interiors into a haven of beauty and style with our curated selection. Browse our
designer wallpaper
today to find the perfect pink statement that resonates with your unique aesthetic vision.