Back to top
Beige Wallpaper
Delve into our exquisite beige wallpaper collection that combines elegance and versatility to transform any space. Discover a range of stunning beige wallpapers designed to elevate your interior decor. From contemporary patterns to
timeless textures
, our beige wallpaper offers a harmonious blend of warmth and sophistication. Explore our diverse selection and bring a sense of tranquillity and style to your home or office.
At Voyage Maison, our
designer wallpaper
boasts exceptional quality, crafted to perfection with attention to detail. With its wide width and luxurious matte finish, our wallpapers add a touch of grandeur and sophistication to any room. Whether you're seeking a serene ambience or a touch of refined simplicity, our collection includes both plain beige wallpapers and beige textured wallpapers to allow you to create a space that reflects your unique personality and stands the test of time.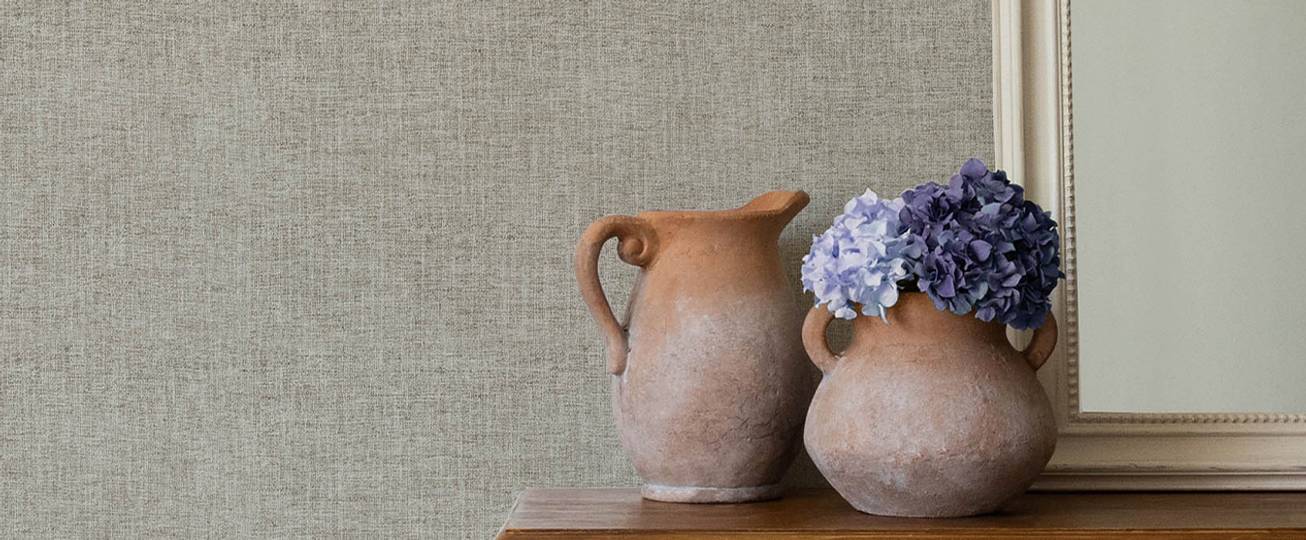 Beige Wallpapers at Voyage Maison
Beige doesn't have to mean boring: your interior design will be far from plain with our incredible range of beige wallpaper. With an extensive range of plains, textures, and prints, all on ultra wide wallpaper, your interior design journey is about to take a delightful turn. Embrace the timeless elegance of beige and explore the captivating trends that are sure to elevate your living spaces.

This classic and versatile neutral colour has always been popular, and for a good reason – it never goes out of style! Beige wallpaper holds a subtle power in interior design that can't be ignored. Its soothing tones create a calming atmosphere within any space, making it perfect for various themes, whether modern or traditional. We offer a variety of beige wallpapers that let you stay on trend with the latest interior styles.


Plain Beige Wallpaper
Elevate your space with our plain beige wallpaper. Its understated elegance serves as a perfect canvas for your creativity to shine. Use
plain wallpaper
to achieve a minimalist and chic look that exudes sophistication. Embrace the beige aesthetic wallpaper to create a serene and harmonious ambience, making every day a peaceful retreat.
Beige Patterned Wallpaper
For those who love nature's charm, our beige patterned wallpaper is a must-have. Our
floral
and
damask wallpapers
are a popular choice and more good reason! Delight in the grace of beige floral wallpaper, bringing the outdoors inside and infusing your space with a touch of natural splendour. Alternatively, indulge in the intricate designs of beige damask wallpaper, adding a touch of vintage luxury to your rooms. Pair these wallpapers with light-coloured furniture to create a balanced and inviting space.
Beige Textured Wallpaper
Discover the allure of beige textured wallpaper, adding depth and dimension to your walls. Whether you choose subtle textures or bold patterns, this collection offers endless possibilities. Embrace modernity by pairing it with sleek
furniture
, accentuating clean lines, and creating a contemporary haven. Alternatively, combine
textured wallpaper
with wooden surfaces and earthy elements to craft a warm and inviting rustic atmosphere.
Whatever your interior design plans, our beige wallpapers complement them with ease. Let the charm of beige wallpaper be the guiding force behind your décor choices. Make a statement with eye-catching furniture against the subtle backdrop of our
designer wallpaper
and embrace a harmonious symphony of neutral furnishings to create a soothing sanctuary.
At
Voyage Maison
, we offer an extensive selection of beige wallpapers to suit your unique style and vision. Shop now and discover true elegance!