Back to top
Blue Wallpaper
Introducing our wonderful collection of blue wallpaper, designed to enhance any space with captivating aesthetics. Explore our vast selection of blue wallpaper, featuring mesmerising shades ranging from deep navy blue to serene light blue. Elevate your interior decor with our captivating blue aesthetic wallpapers, perfect for creating a soothing and stylish ambience. Our collection gives your interior the chance to radiate tranquillity and freshness. Transform your space with our stunning blue wallpapers today!
Each of our
designer wallpapers
is printed on the highest quality wide width paper. Preserving every intricate detail, they are complete with an elegant matte finish. Complement your blue wallpaper with our range of
coastal cushions
and other accessories, effortlessly blending the elements of nature into your home. Transform your space with our stunning blue wallpapers and create a coastal-inspired haven that reflects your unique style.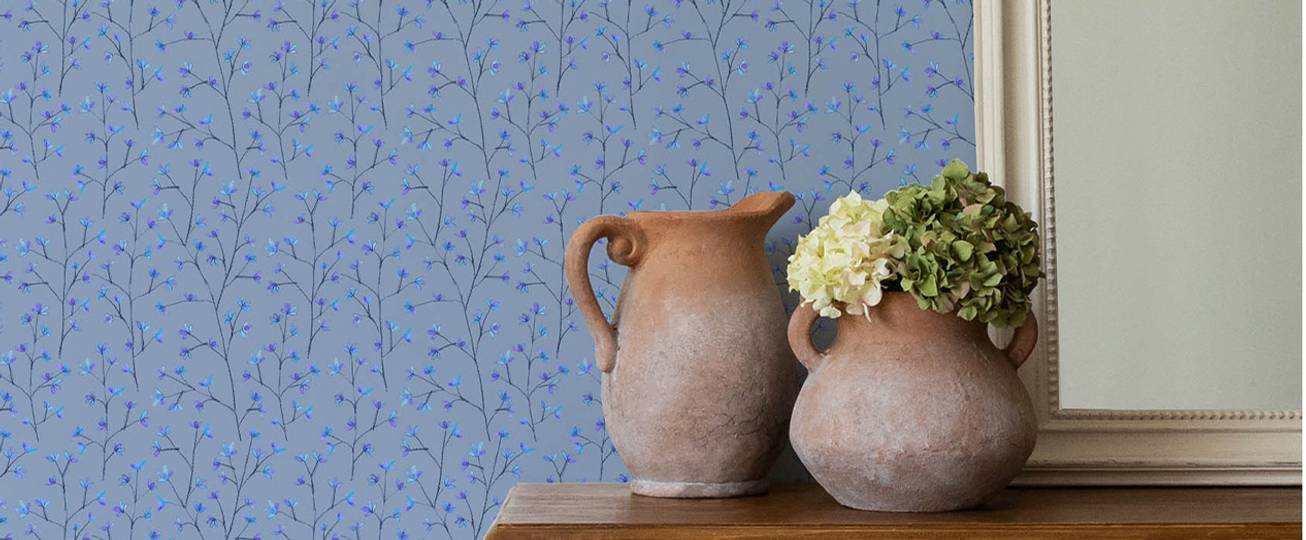 Blue Wallpapers at Voyage Maison
Discover a selection of stunning blue wallpaper when you shop at
Voyage Maison
! Immerse yourself in a world of captivating shades and styles, each designed to elevate the aesthetics of your interiors. Our wide-ranging assortment offers the perfect
blue wallpapers
for every taste, from deep and sophisticated navy blue to serene and airy baby blue.
Navy Blue Wallpaper
Navy blue wallpaper exudes an air of elegance and luxury. Its deep, rich hue adds a sense of drama and sophistication to any space. Whether used as an accent wall or throughout the room, dark blue wallpaper creates a bold statement and pairs exceptionally well with metallic accents, such as gold or silver. It complements modern and contemporary interiors, infusing them with a sense of timeless charm.
Light Blue Wallpaper
On the other end of the spectrum, we have light blue wallpaper, which brings a refreshing and tranquil vibe to your living spaces. This delicate shade of blue evokes a sense of calm and serenity, making it ideal for
bedrooms
, nurseries, or any area where relaxation is paramount. Light blue wallpaper beautifully combines with white or neutral furnishings, enhancing the overall feeling of openness and brightness in the room. Perfect if you want to create that trendy coastal finish!
Duck Egg Blue Wallpaper
For a more unique and subtle touch, consider our duck egg blue wallpaper. This shade sits between
green
and blue, offering a soft and sophisticated alternative. Duck egg wallpaper complements shabby chic, coastal, and cottage-style interiors seamlessly. Its understated charm and versatility make it an excellent choice for living rooms, kitchens, or dining areas.
Baby Blue Wallpaper
Lastly, our baby blue wallpaper, with its gentle and soothing appeal, is perfect for creating a dreamy ambience. Ideal for nurseries or children's rooms, this wallpaper adds a sense of innocence and purity to the space. Pair it with whimsical décor and soft textures for an enchanting and playful atmosphere that nurtures creativity and imagination.
Embrace the blue aesthetic wallpaper trend today, and let our
designer wallpaper
inspire you to transform your living space. Revamp your home with our blue wallpapers, and experience the harmonious and refreshing ambience they bring.