Back to top
Footstools
Welcome to our exquisite collection of footstools, where style, comfort, and variety come together in perfect harmony. At Voyage Maison, we offer a variety of footstools in various prints and sizes, ensuring there's a perfect match for every taste and décor. From large footstools that provide ample space for relaxation to small footstools ideal for cosy corners, we have options for every need. The perfect sidekicks to
chairs
and
sofas
, our footstools are perfect for resting your feet after a long day and also make a comfy seat for your little ones. Explore our
furniture collection
today and sit back and relax!
At Voyage Maison, our footstools are a testament to exquisite craftsmanship. Each piece is meticulously crafted from solid wood, ensuring durability and longevity. Furthermore, our skilled artisans take pride in upholstering each footstool by hand, using only the
finest quality fabrics
, to create a truly exceptional piece of
furniture
. For those seeking a touch of whimsy, our animal footstools bring a playful element to any room. If you desire a luxurious and textured look, our boucle footstools are a must-have. Additionally, our long footstools offer extended seating and a sleek design. Don't miss out on our best-selling range of Highland Cow footstools too! These designer stools add a touch of Scottish charm to any space.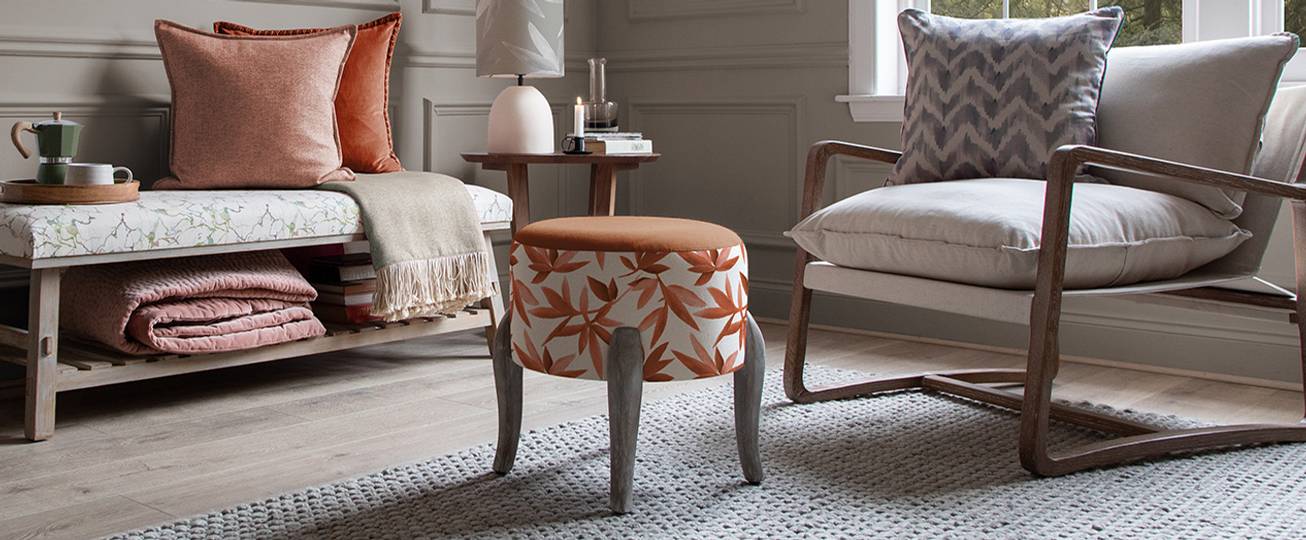 Footstools at Voyage Maison
Shop a wonderful collection of footstools at Voyage Maison, including small and large footstools, meticulously crafted in a range of captivating designs. Indulge in luxurious fabrics and elevate your décor with these stunning upholstered pieces. From timeless classics to modern marvels, our selection offers something for every taste.
How to Choose and Style Footstools
For those yearning for a modern touch, our grey footstools are a timeless choice, seamlessly blending elegance and adaptability. Picture yourself sinking into luxurious comfort while adding a contemporary flair to your surroundings. If warmth and texture are on your wish list, our cream footstools, upholstered in a sumptuous boucle fabric, are a must-have. These footstools not only provide a cosy spot to rest your feet but also exude a welcoming charm that enhances any room.
For the bold trendsetters, our printed footstools steal the spotlight. Make a statement with our diverse range of prints, including
floral
,
country
, and
maximalist
styles. There's no better way to make your interior stand out! For a touch of rustic allure, consider our best-selling highland cow footstool. This unique statement piece adds character and charm to your living space, creating a focal point that captures attention and sparks conversation. Transform your living space into a visual masterpiece with footstools that are just as unique as your style.
If you have a spacious interior, our large footstools and table stools are perfect! They're designed to offer ample space for relaxation while exuding an air of effortless sophistication. These pieces are crafted to seamlessly integrate into your décor, enhancing both comfort and aesthetic appeal. For those with smaller spaces seeking a touch of compact charm, our small footstools are the perfect solution. Infuse any room with delightful accents that not only provide a comfortable perch but also contribute to the overall charm of your home.
What are footstools used for?
Footstools, beyond their primary purpose of providing a comfortable spot to rest your feet after a long day, serve as versatile and stylish additions to any home. The larger varieties, such as table stools, extend their functionality by doubling as coffee tables, creating a focal point in your living space. These large footstools offer ample surface area for placing trays, books, or décor, seamlessly blending practicality with sophistication. On the other hand, small footstools, with their compact charm, often find utility as delightful seats for little ones. Their versatility extends beyond footrests, adding a touch of comfort and functionality to various areas of your home. Whether used for relaxation, as a unique
seating
option, or as a stylish coffee table alternative, footstools from Voyage Maison effortlessly combine form and function, enhancing the overall aesthetic of your living space.
Indulge in the art of living well with our exceptional footstool collection, where comfort meets design in the most remarkable way. Upgrade your home with these carefully curated pieces that cater to your desire for luxury, quality, and a touch of individuality. Your journey to a more stylish and comfortable living space begins with our exceptional
furniture
offering. Give your feet a treat and kick back in style and comfort with a footstool from
Voyage Maison
!