Back to top
Green Cushions
Freshen up your interior with our wonderful collection of green cushions. From gentle sage green cushions to
 pastels and vibrant forest green to luxurious emeralds and muted khakis, our collection has a huge variety of beautiful shades to use throughout your home décor. Our selection of green cushions features patterns, prints, and plains, in a range of sizes and fabrics, such as our popular green velvet cushions, so whatever your interior style, we've made finding the right cushion for you easy!
Green cushions are a popular choice because they complement so many colour palettes and introduce a touch of nature into your space. Whether you're looking for plain
green sofa cushion
or a bright
green floral cushion
– you'll find just the thing here at Voyage Maison.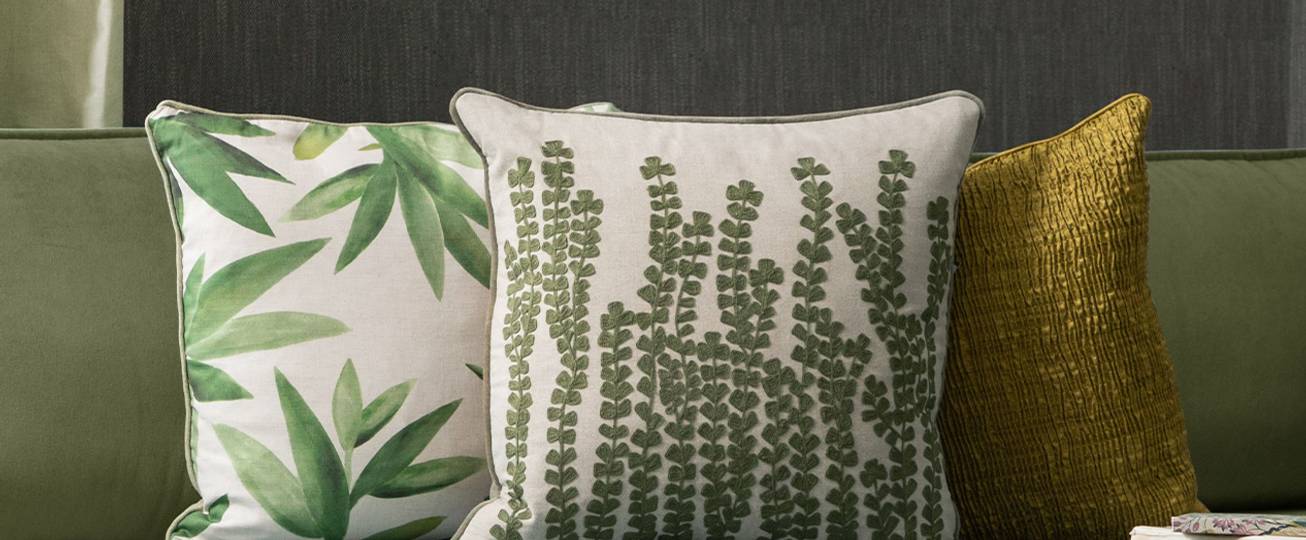 Green Cushions from Voyage Maison
At Voyage Maison we offer a wide range of green cushions in a huge selection of designs, fabrics and colours. Choose from luxury green velvet cushions, green patterned cushions and elegant plains and rich textures. Indulge the senses with opulent jewel tones with our emerald green cushions, or stay on trend with our sage green cushions.

Knowing how to style green cushions is important for the overall look and finish of your interior. You can use shades of green to create a variety of different styles and interiors, whether you're going for something simplistic or a little bolder. If you're looking to create a calm, laid back feel then our sage green or pastel green cushions are the perfect choice and pair beautifully with other grey furnishings. We love pairing grey and green together in the bedroom for a dreamy finish. If you prefer a more luxe finish, then our emerald green cushions are perfect to introduce opulence to your space. Pair your emerald cushions with rich berry tones, or other jewel tones like sapphire for an expensive finish. If you're looking for a fun, contrasting finish, then inject colour with a lime green cushion and pair against monochrome tones in your space.

Feeling unsure about adding colour into your space? Don't be! Green is a versatile colour that complements a wide range of other shades, allowing you to choose between a classic colour scheme or one that's a little more surprising. What are you waiting for? Delight the senses when you choose green cushions from Voyage Maison.