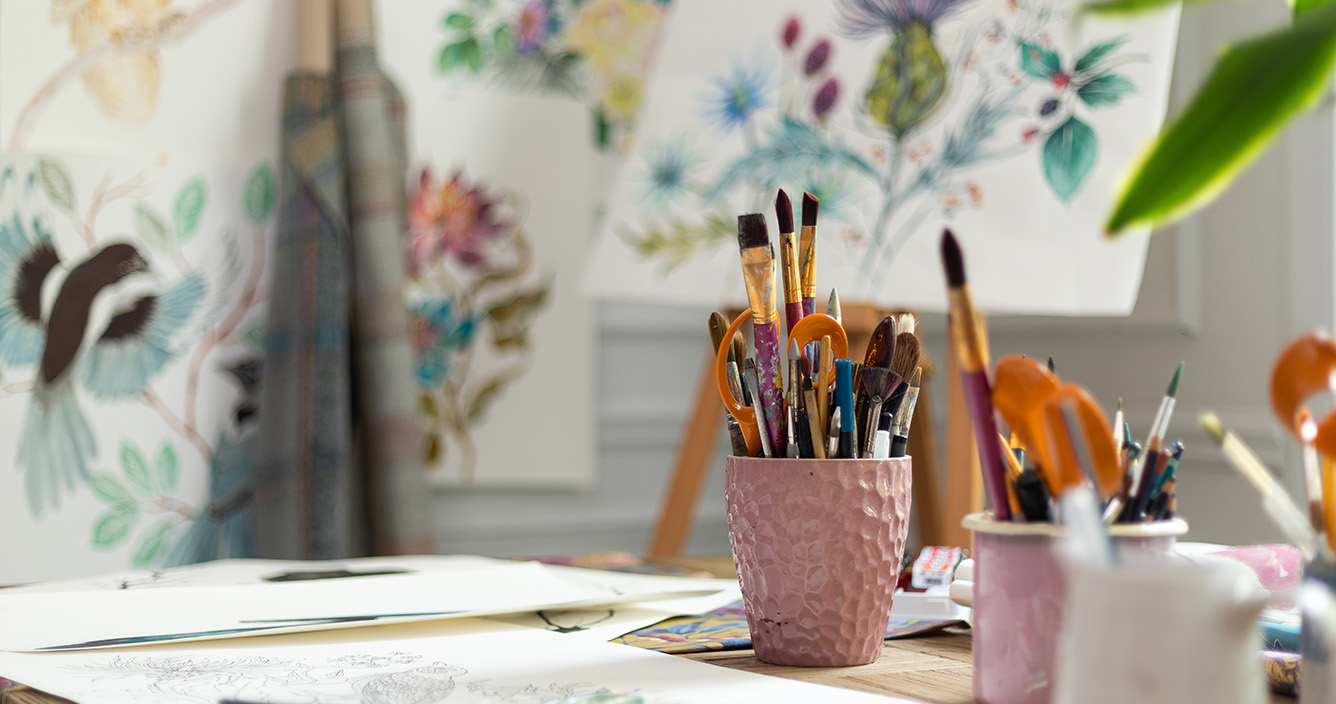 About Us
Introducing Voyage Maison: Where Luxury Interiors and Artistic Prints Come Together
Welcome to Voyage Maison, a leading luxury home interior company specialising in exquisite print designs. With a passion for artistic craftsmanship and an eye for intricate detail, we bring you a diverse range of captivating patterns inspired by nature, from enchanting florals to coastal scenes and Scottish Highland wonders.
The Birth of a Vision
Our journey began with a deep-rooted passion for print, quality, and design. Recognising a gap in the market for luxury statement interiors that ignite conversation and exude beauty, we embarked on a mission to create a brand that embodies sophistication and artistic flair. Drawing inspiration from the worlds of art and design, we bring you exceptional pieces that transform your living spaces into stunning works of art.
Our Print Designs: Where Country Charm Meets Elegance
At Voyage Maison, we believe that every home deserves a touch of elegance and a dash of charm. Our print designs are renowned for their watercolour aesthetics and thorough attention to detail. Each design is meticulously hand-painted, giving our collections a truly unique and luxurious appeal. Whether you're captivated by the grace of woodland creatures or the timeless beauty of highland landscapes, our prints offer a wide range of designs to suit everyone who appreciates the art of pattern.
An Array of Exquisite Products
Discover a world of luxury and artistry with our extensive range of products. From wallpaper to fabric, cushions to throws, table lamps to lampshades, and curtains to glassware, we offer a comprehensive selection of soft furnishings and home accessories. Our curated collection also includes framed prints, floor lamps, doorstops, and draught excluders, all designed to elevate your home with statement pieces that stand the test of time. Whether you reside in a countryside abode surrounded by nature's beauty or embrace the coastal charm, our products are tailored to those who appreciate classic country style and seek to infuse their homes with colour, pattern, and timeless elegance.
Collaboration with Artists and Designers
In our pursuit of artistic excellence, we collaborate with renowned artists and designers. We are proud to have successful collections with the likes of Marie Burke and Darren Woodhead, breathing life into their stunning artwork and providing a unique platform for their fans to experience their work in a new medium. Through these collaborations, we aim to elevate their creations while offering our customers an exclusive opportunity to own exceptional interior pieces.
Uncompromising Quality and Craftsmanship
At Voyage Maison, quality is the cornerstone of our brand. To ensure the utmost attention to detail, we meticulously print all our designs in-house, maintaining a high level of precision and craftsmanship across our product range. We hand-select fabrics from trusted manufacturers around the world, personally visiting each one to ensure they meet our rigorous standards. By embracing natural fibres and prioritising local manufacturing, we strive to create products that embody sustainability and exquisite quality.
A Vision for Your Beautiful Home
At Voyage Maison, our vision is to create and enhance beautiful homes with a fresh, artistic feel that represents a contemporary country lifestyle. We believe that your home should be a reflection of your individuality, embracing colour, texture, and timeless design. With our outstanding range of collections, styles, and colours, we offer you the opportunity to decorate and accessorise with flair and confidence, transforming your living spaces into havens of sophistication.
Inspired by Trends, Guided by Customer Feedback
Staying at the forefront of design trends and industry developments is central to our ethos. Our dedicated design team has a keen eye for innovation, regularly attending global trade shows and collaborating with fellow designers and suppliers worldwide. By closely listening to our customers, incorporating their feedback and preferences, and analysing best-selling items, we shape our future collections to meet and exceed their expectations.
Exceptional Customer Experience
We understand that selecting a luxury designer interior piece for your home is a personal experience. That's why we strive to provide exceptional customer service that accompanies you every step of the way. From the moment you step onto our site, we want to inform and inspire you, ensuring you have all the necessary information before making a purchase. Our commitment to your satisfaction extends beyond your order, as we are dedicated to providing ongoing support and assistance.
Join Us on the Voyage
For over 20 years, Voyage Maison has been a trusted name at the forefront of the home interior design and manufacturing industry. Our highly talented and creative perfectionist designers work to infuse your home with colour, texture, and freshly designed collections. We take pride in our ability to bring your living spaces to life, offering you a world of elegance, artistry, and sophistication.
Experience the Voyage Maison difference today and embark on a journey of timeless beauty and exquisite craftsmanship. Let our artists' visions, expressed through soft watercolour paintings and drawings, transform your home into a sanctuary of artistic expression. By combining traditional artistry with cutting-edge print technology, we ensure that every product bearing the Voyage Maison name is an exceptional work of art.
Welcome to Voyage Maison, where luxury, art, and impeccable design converge. Let us accompany you on this remarkable journey of interior excellence.