Back to top
Lamp Bases
Discover our exquisite collection of lamp bases featuring a wide range of styles and materials. We offer a selection of glass, ceramic, and wooden lamp bases, each crafted from the finest quality materials. Opt If you like an organic feel, opt for wood for a touch of natural beauty or go for a more sophisticated look with a ceramic lamp base. Our glass bases radiate a delicate and captivating ambience offering an ethereal glow. Choose from our diverse selection of both table lamp bases and floor lamp bases today and create a warm and inviting atmosphere in your space.
At Voyage Maison, our
premium lighting
options are designed to enhance the ambience of your space beautifully. Whether you're looking to create a cosy reading nook, a serene bedroom retreat, or an inviting hallway, our lamp bases are the perfect addition to elevate your space. Pair them with one of our
statement lamp shades
for a quality finish that uplifts your interior. Our extensive assortment of lamp bases provides an array of options to discover the ideal match for your existing décor.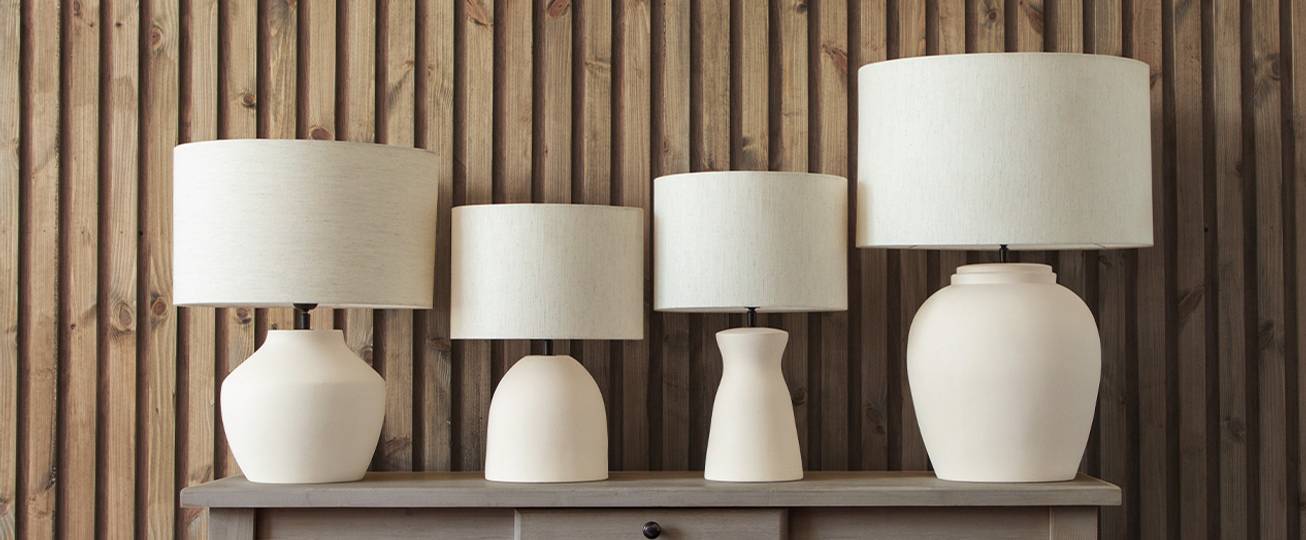 Lamp Bases at Voyage Maison
Looking for the perfect lamp base to complement your interior style? Our diverse range includes glass, ceramic, and wood lamp bases, each meticulously crafted to meet the highest standards of quality. We understand that finding the right fit for your space can be a challenging decision. That's why our selection includes both table lamp bases and floor lamp bases, ensuring that you can make the ideal choice for your specific
lighting
needs.
What are the Benefits of our Lamp Bases?
For those who appreciate the beauty of nature, our wood lamp bases provide a touch of rustic charm and natural beauty to your décor. Crafted from the finest, naturally sourced wood, each holds a truly timeless appeal. They bring the warmth and the authenticity of wood into your home, with various wood types and finishes to match your décor. Additionally, wood offers durability, creating a long-lasting lighting fixture that is also incredibly low maintenance. We offer wooden lamp bases in both
table lamp
and
floor lamp
sizes, to perfectly align with all your lighting needs.
Prefer a more refined and sophisticated look? Our ceramic lamp bases are the epitome of elegance. These bases showcase exquisite craftsmanship and come in various styles to suit your taste. They are perfect for those who seek a touch of sophistication and artistic flair in their interior lighting. These bases are not only visually appealing but also durable and heat-resistant, ensuring long-lasting use. Their artistic designs and ease of cleaning make them a practical and aesthetic choice for illuminating your space. We currently offer a wide selection of ceramic table lamp bases in a variety of glossy and matte finishes to complement your interior style.
If you're after a delicate and captivating ambience, our glass lamp bases are the choice for you. These bases radiate a soft, ethereal glow, creating an enchanting atmosphere in any room. Their transparent nature creates an illusion of space, making them perfect for smaller rooms. With versatile styles that suit various décor themes and the ability to amplify light, glass lamp bases offer timeless elegance. Their ease of maintenance, durability, and the option to customise with different
lamp shades
make them a practical and visually enchanting choice for your interior décor. Whether you're looking to infuse a sense of romance into your bedroom or add a touch of intrigue to your living space, our glass table lamp bases are the perfect choice.
How to Style Lamp Bases
How you style your lamp bases can make all the difference to the overall finish of your interior. You should take advantage of our various lamp base options and pair them with our unique
lamp shades
to achieve a harmonious and inviting home.
Our wood lamp bases exude warmth and charm, making them ideal for creating a cosy atmosphere in the bedroom or living room. Their natural beauty pairs exceptionally well with earthy and neutral-toned lampshades, adding to the rustic appeal. Consider
country-themed shades
to enhance the organic, natural feel. For a touch of contrast, opt for lampshades with subtle patterns or soft textures to balance the simplicity of wood.
Ceramic lamp bases bring elegance to any room. They are extremely versatile, working well throughout the home in bedrooms, lounge areas, and entrance hallways. Ceramic bases can be beautifully complemented with lampshades featuring intricate patterns or bold colours for a striking effect. If you prefer a more classic look, select
plain and textured shades
that harmonise with your décor's colour scheme, allowing the base to be the focal point.
Glass lamp bases create an ethereal ambience that's perfect for the bedroom, dining area, or as a focal point in your living room. To accentuate their enchanting glow, consider soft and diffused lampshades. Light-coloured shades work well to enhance the luminosity of the glass. Alternatively, for a touch of drama, opt for dark or bold hues with our
maximalist lamp shades
that contrast with the delicate nature of glass bases.
If you're thinking about opting for table lamp bases, they are versatile and can be used on nightstands, side tables, or as decorative pieces in various areas of your home. Pair them with lampshades that match the room's theme. For instance, a
ceramic table lamp
in the living room can be accompanied by a lampshade that complements the colour palette of your furniture and décor. In a bedroom, a glass table lamp can create a soothing ambience with a soft, light-toned shade.
If you've opted for floor lamp bases, they work perfectly to create a statement in larger spaces. Our
wooden floor lamps
, available in both tall standard bases and the popular tripod style, are the epitome of natural beauty and versatility. They pair well with our drum lampshades in neutral shades to create a contemporary and balanced look that complements their clean lines and modern aesthetic. Try to experiment with various lamp shade styles to create the perfect finish for your home.
Remember, the beauty of our lamp bases lies not only in their individuality but also in their versatility to blend seamlessly with your décor. Whether you're aiming for a cosy retreat, a touch of sophistication, or a bold finish, our lamp bases and
lamp shades
can be mixed and matched to curate the perfect
lighting
solution for your home. For more tips and tricks on how to style lamp bases, explore our
Lighting Buying Guide
.