Back to top
Floral Wallpaper
Introducing our exquisite floral wallpaper collection, a must-have for interior design enthusiasts. Explore a stunning array of designs that seamlessly blend timeless elegance with contemporary charm. Our extensive range includes captivating pink floral wallpaper, as well as stylish vintage floral wallpaper, perfect for adding a touch of romance to any space.
Proudly crafted in the UK, our floral wallpapers boast exceptional quality and attention to detail. All our designs are printed onto ultra wide paper with a matte finish that preserves the detail of the original artwork. Dive into the enchanting world of floral wallpaper, offering a fresh update to your decor. For those seeking a refreshing and vibrant ambience, our green floral wallpapers provide a breath of fresh air. Elevate your home's aesthetic with our captivating
designer wallpaper
collection today.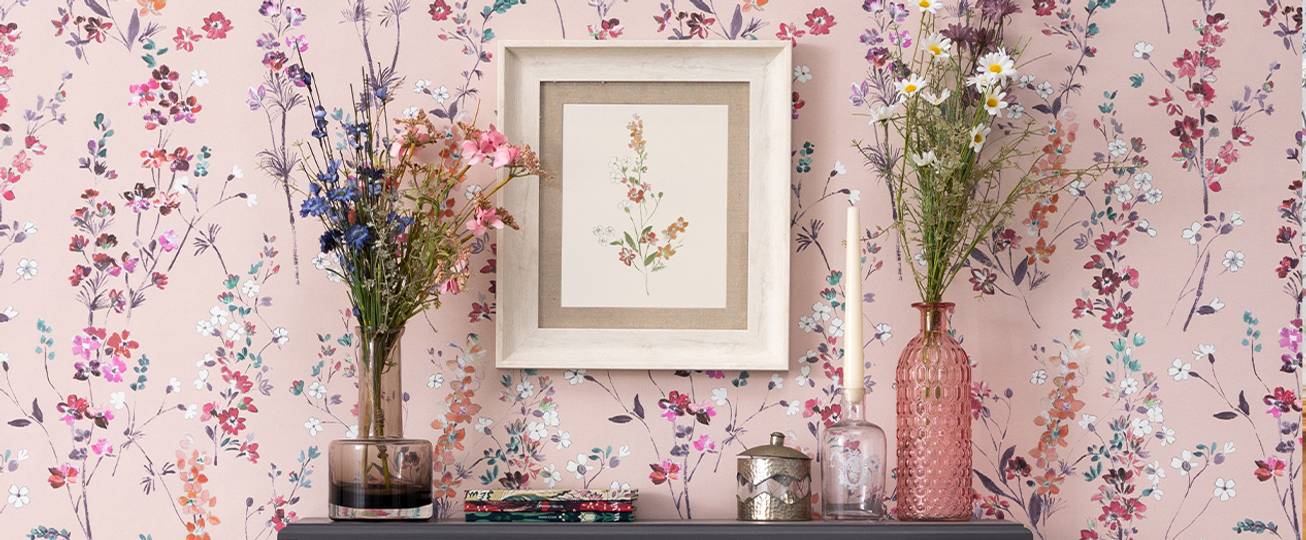 Floral Wallpapers at Voyage Maison
Embrace the beauty of nature within your home and create a captivating indoor space with our wide-width floral wallpaper. Whether you're aiming for a timeless vintage feel, a modern statement piece, or a country-inspired ambience, we have the perfect
designer wallpaper
to suit any room in your home.
Trending Floral Wallpaper Designs
Pink Floral Wallpaper
Experience the charm of delicate blooms with our enchanting pink floral wallpaper. This design adds a touch of elegance and a dash of playfulness to any space. The soft pink hues evoke a sense of serenity, making it an ideal choice for bedrooms, nurseries, or cosy living areas. Let the gentle allure of
pink wallpaper
infuse your room with a calming and romantic atmosphere.
Green Floral Wallpaper
Lush, refreshing, and ever so captivating – our green floral wallpaper brings the rejuvenating spirit of the outdoors into your home. The verdant hues and intricate botanical patterns create a natural oasis, making it perfect for living rooms or home offices. Transform your space into a tranquil retreat with the invigorating charm of
green wallpaper
.
Vintage Floral Wallpaper
Transport yourself to a bygone era with our vintage floral wallpaper. This timeless style exudes classic beauty and sophistication, adding a touch of nostalgia to your interior decor. The intricate floral motifs in elegant colour palettes elevate the overall ambience of dining rooms, hallways, or any space where you want to create a refined vintage appeal.
Country Floral Wallpaper
Capture the rustic charm of the countryside with our country floral wallpaper. This style boasts a quaint and cosy atmosphere, bringing the essence of rural landscapes to your home. Ideal for kitchens, breakfast nooks, or country-style bedrooms, our country wallpaper adds warmth and character to your living spaces.
Modern Floral Wallpaper
For a contemporary and artistic vibe, explore our modern floral wallpaper designs. These bold and vibrant patterns redefine traditional floral motifs, making them perfect for eclectic and avant-garde spaces. Adorn your accent walls or creative spaces with our modern floral wallpaper to infuse your home with an energetic and trendy flair.
Our floral wallpaper styles allow you to seamlessly blend the beauty of nature into your interior decor. Choose from an extensive range of patterns, colours, and finishes to create your desired ambience. Whether you're aiming for a captivating feature wall with
murals
or an all-encompassing floral experience, our wide selection has something to cater to every taste and preference.