Back to top
Purple Wallpaper
Discover our beautiful collection of purple wallpaper, perfect for adding a touch of elegance to any space. Explore our extensive range of aesthetic purple wallpapers, featuring captivating designs in enchanting hues that effortlessly blend with diverse interior styles. From soothing pastel purple wallpapers to bold and dramatic dark purple options, we offer a diverse selection to suit every taste and style. Discover the power of purple with our captivating
wallpaper collection
today.
At Voyage Maison, our premium wallpapers are crafted with the utmost care, ensuring exceptional quality. With ultra-wide paper and a matte finish, they preserve the artwork's intricate details beautifully. Not only high quality, these stylish designs also add a touch of sophistication to any space. Immerse yourself in a world of purple wallpapers that exude charm and sophistication, transforming your walls into stunning focal points.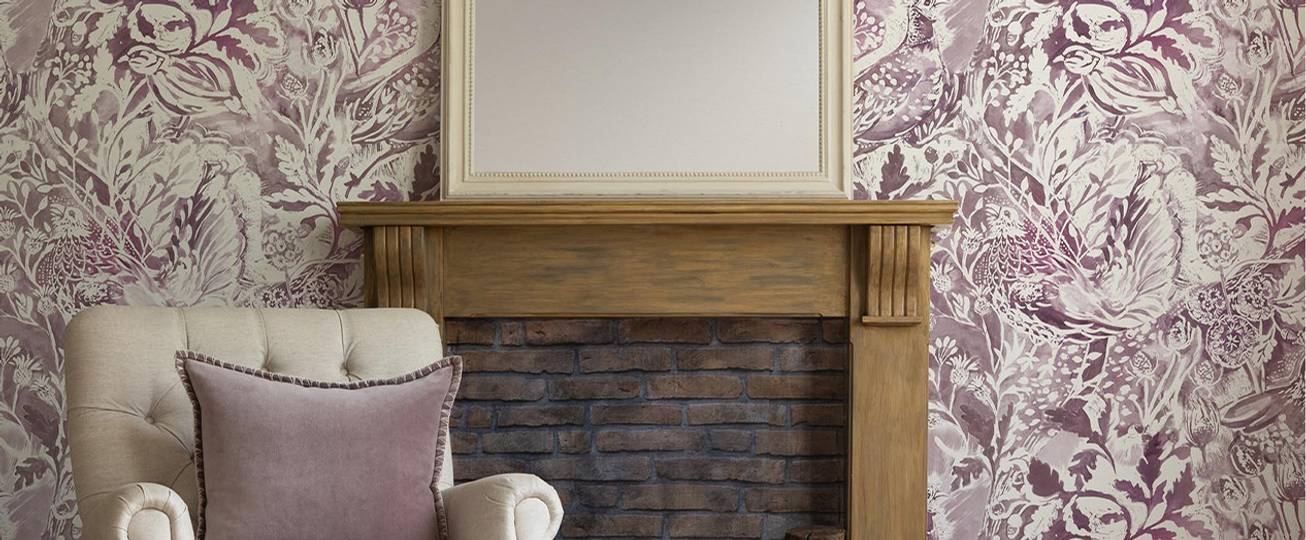 Purple Wallpapers at Voyage Maison
Explore an exclusive collection of purple wallpapers, where captivating plains, intricate textures, and mesmerizing prints await you. Our ultra wide wallpaper ensures seamless coverage, making your walls a stunning canvas of purple elegance. Explore the enchanting world of purple wallpaper, where each design enhances your interiors with a unique charm and style.


Purple Pattern Wallpaper
Experience the fusion of art and design with our captivating purple pattern wallpapers. From intricate
damasks
to geometric wonders, these wallpapers add visual intrigue to any room. Depending on the pattern, they can elevate a room's style to match your preferences - be it contemporary, vintage, or bohemian. Mix and match
furniture
styles to create an eclectic and lively atmosphere that complements the patterns' distinct allure.
Plain Purple Wallpaper
Embrace the beauty of simplicity with our plain purple wallpaper options. These solid-coloured designs provide a versatile backdrop for any interior theme. From modern to retro,
plain and textured wallpaper
effortlessly blends in and allow you to play with various decor elements. Use them to highlight specific features in your room, or go for a monochromatic look for a minimalist and trendy space.
Light Purple Wallpaper
Create an ethereal ambience with our light purple wallpapers. These soft and delicate hues add a touch of serenity to any room. Ideal for bedrooms and cosy spaces, light purple wallpapers exude a sense of calmness and tranquillity. Pair them with white or neutral furnishings to achieve a dreamy, minimalist aesthetic. Light purple wallpaper effortlessly complements floral accents, creating a refreshing and inviting atmosphere.
Pastel Purple Wallpaper
For a subtle yet sophisticated look, embrace pastel purple wallpaper. These wallpapers infuse a gentle pop of colour, perfect for adding a touch of personality to your living room or nursery. The understated elegance of pastel purple complements both modern and traditional interiors. Pair it with light wood furnishings to create a charming and whimsical space. Our pastel purple wallpapers are the epitome of contemporary chic.
Dark Purple Wallpaper
Indulge in luxurious mystique with our dark purple wallpapers. These deep and rich shades exude opulence, making them an excellent choice for creating a statement wall in your dining area or study. Dark purple wallpapers create a cosy and sophisticated interior when paired with metallic accents and plush fabrics. Elevate the ambience with soft
lighting
, and you'll have a space that exudes warmth and refinement.
Unleash your creativity and transform your living spaces with our exquisite purple wallpapers. Whether you're drawn to the subtlety of light and pastel shades or the boldness of dark hues, our collection offers something to match your unique style. Elevate your interiors with enchanting plains, captivating textures, alluring prints, and artistic patterns, setting a new standard of elegance. Explore our diverse range of
designer wallpaper
today and experience the magic they bring to your cherished spaces.