Back to top
Nature Wallpaper
Introducing our collection of nature wallpaper that will bring the beauty of the outdoors into your home. Immerse yourself in breathtaking landscapes, wildlife and vibrant colours captured in our designs. Whether you're looking for serene seascapes, majestic wildlife, or lush forests, our nature wallpaper selection has something for everyone. Explore our vast assortment of beautiful
designer wallpaper
and transform your interior into a true oasis.
With a huge selection to choose from, we have one of the largest offerings of designer wallpaper in the UK. For a fresh, earthy feel, indulge in the soothing hues of
green
nature wallpapers that evoke a sense of tranquillity and harmony with the environment. Or, opt for a
neutral design
that will complement country interiors perfectly! All of our wallpaper is printed onto ultra wide paper with a matte finish to preserve each and every detail of the original artwork. Elevate your interior to the next level with our nature wallpaper collection today.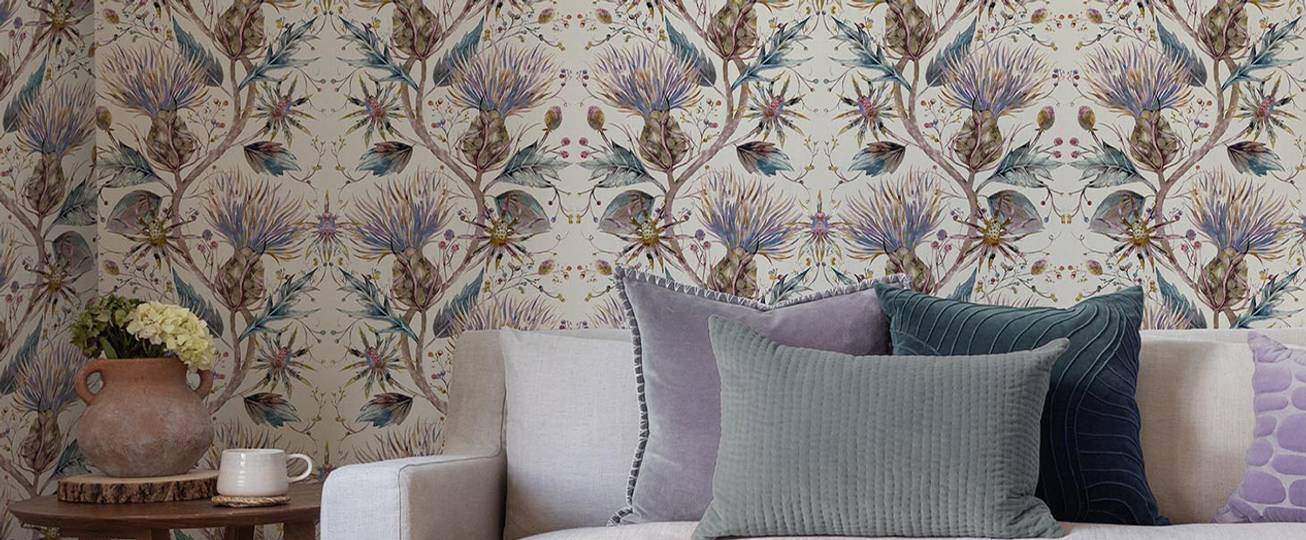 Nature Wallpapers at Voyage Maison
Envelop yourself in the captivating beauty of nature through our meticulously curated range of nature wallpaper. Our collection caters to those with an appreciation for both the graceful charm of animals and the delicate allure of floral patterns. Each design is thoughtfully inspired by mesmerizing wildlife and scenic landscapes, ensuring your home becomes a haven of captivating beauty. Discover the perfect
wallpaper
to complement your discerning taste, and let the enchantment of nature breathe life into your home.
Featuring a variety of wildlife and beautiful scenery, our natural wallpaper brings the calming essence of the great outdoors into your living space. Our wallpapers feature soft tones and understated patterns that blend harmoniously with any décor style. From
soothing greens
to
gentle creams
, our natural wallpapers create a tranquil ambience that soothes the soul.
Delight in the wonders of wildlife with our captivating
animal wallpaper
designs. Allow your walls to narrate the captivating tale of charming wildlife through meticulously crafted patterns and artwork. Each design brings a touch of nature's wild spirit into your home, making a bold statement and adding a touch of adventure to your interiors.
Looking for something different? Unleash the beauty of blossoms with our enchanting
floral wallpaper
collection. Infuse your home with the delicate charm of nature's blossoms through carefully crafted floral patterns. Whether you prefer a classic rose motif or a contemporary
floral damask
, we have something for everyone.
Our commitment to excellence ensures that all our nature wallpapers are crafted with high-quality materials, guaranteeing a long-lasting finish. Experience durability and style as our
ultra wide wallpapers
retain their beauty, allowing you to enjoy nature's embrace for years to come.
Indulge in the timeless allure of nature within the comfort of your abode through our exquisite range of nature wallpaper. Embrace the captivating charm of animal and floral prints, as they infuse your home with a serene, refined ambience. We cordially invite you to explore our exclusive collection today. We guarantee you'll discover the perfect wallpaper that elevates the inherent beauty of your living spaces.