Back to top
Ceiling Lights
Experience a world of artistic beauty with our captivating collection of ceiling lights, designed to elevate your home with style and sophistication. Our premium
lighting
 collection boasts a captivating selection of lamp shades for ceiling lights, each featuring a signature voyage design. With a diverse range of designs, you can truly personalise your ceiling lights to suit your space. Choose from our mesmerising selection and find the perfect ceiling light to illuminate your home today.
Whether you're searching for the perfect addition to your living room or bedroom, we have a wide range of ceiling lights to suit your needs. Our selection offers a variety of ceiling lamp shades to suit a variety of interior styles. Transform your living space into a serene countryside retreat with our
country-themed shades
, showcasing scenic landscapes and charming motifs. For those seeking a modern and eclectic vibe, our
abstract lamp shades
offer a captivating blend of bold shapes and colours that will make a statement in any room.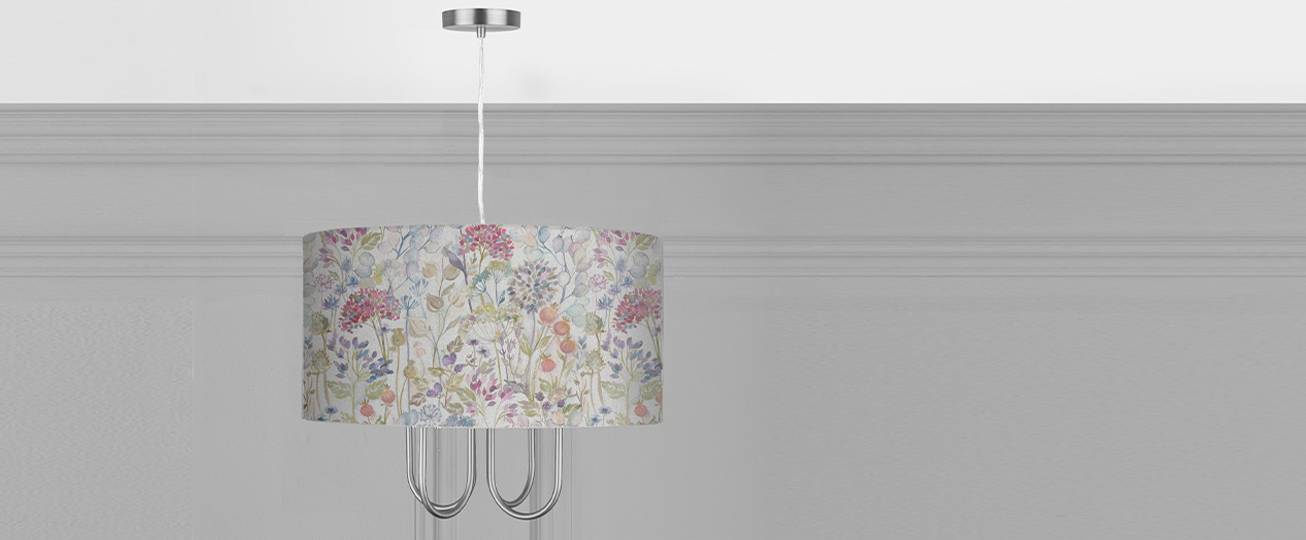 Ceiling Lights at Voyage Maison
Elevate your home to new heights with our exclusive collection of ceiling lights and
lamp shades
at Voyage Maison. Illuminate your living space with a touch of sophistication and style, as our carefully curated selection brings together form and function seamlessly.
How to Style Ceiling Lights
Creating the perfect ambience in your home begins with thoughtful styling. Our ceiling lights and shades are designed to complement a variety of interior styles, from classic to contemporary.
For rooms with low ceilings, consider flush fixture options that provide ample illumination without sacrificing style. Keeping your lighting sleek and close to the ceiling allows them to seamlessly blend with your decor, creating a harmonious and unobtrusive look. For those with higher ceilings, our pendant lights take centre stage, adding a touch of drama and elegance to the space. The extra length ensures you always get a perfect fit, whether you're illuminating a grand entryway or hanging a statement piece above your dining table. It's not just about
lighting
; it's about creating a visual masterpiece that captivates the eye. These gorgeous ceiling lights add an illusion of floating in mid-air while firmly anchored to your ceiling. A beautiful finishing touch to any modern interior.
How to Choose Lamp Shades for Ceiling Lights
Once you've decided on the type of fixture you'd like, you should consider how you're going to style it. Selecting the perfect lamp shades for ceiling lights involves a thoughtful approach. Begin by assessing the room's style, choosing a shade that complements the decor, whether classic or contemporary. You want to ensure it harmonises with both the room and the fixture, so should also consider its size. Try coordinating colours with the existing scheme or use the shade to introduce a pop of colour. We love adding in accent colours or creating a little character with
t
extured shade
s
. We offer a range of statement designs to suit an array of interiors including those with
abstract
,
country
,
floral
, and
maximalist
prints. Ultimately, let personal taste guide your decision, creating a well-lit and uniquely styled living space.
Aesthetics and Functionality
At Voyage Maison, we understand that lighting is not just about brightness; it's about creating an atmosphere. Our lamp shades for ceiling lights are not only visually stunning but also meticulously crafted to provide the perfect diffusion of light. Choose from an array of textures, materials, and styles that cater to your space and individual taste.
For task-oriented areas, such as kitchens or workspaces, ensure the placement of ceiling lights is strategic to provide ample brightness without harsh glare. Experiment with ceiling lamp shades that allow for focused illumination, aiding in tasks while contributing to the overall aesthetic. In living and dining areas, strike a balance between functional and ambient lighting by choosing
lamp shades
that create a warm, inviting glow. By thoughtfully integrating ceiling lights with lamp shades, you not only enhance the functionality of a space but also elevate its visual appeal. Consider the room's style—whether it's classic, contemporary, or eclectic—and select ceiling shades that harmonise with existing decor, acting as both functional fixtures and stylish accents.
By thoughtfully integrating your ceiling lights and lamp shades, you not only enhance the functionality of a space but also elevate its visual appeal.
Why Choose Voyage Maison Ceiling Lights
Why choose Voyage Maison for your ceiling lights? It's not just about illuminating a room; it's about curating an experience. Our commitment to quality and design excellence sets us apart in the world of home lighting.
Each ceiling light and lamp shade is a canvas for our signature Voyage designs, born from a passion for artistic beauty. We pride ourselves on offering more than just functional lighting; our products are an extension of your personal style, turning your home into a masterpiece.
Crafted with precision and care, our ceiling lights are not just fixtures; they are conversation starters. From the meticulous detailing and hand-rolled edges in our lamp shades to the durability of our fixtures, every element is chosen with your satisfaction in mind. We believe that luxury should not only be seen but also felt in the quality of craftsmanship.
In conclusion, our ceiling lights and lamp shades for ceiling lights are not mere additions to your home; they are statements of style and elegance. Explore the captivating world of
Voyage Maison
, where
lighting
becomes an art form, and your home is the canvas. Illuminate your space with us and discover the perfect blend of aesthetics and functionality, tailored to reflect your unique taste.