Back to top
Yellow Wallpaper
Discover our collection of yellow wallpaper, featuring a variety of bright yellow, mustard, and pastel designs. Whether you're looking to create a cosy ambience or a modern, vibrant space, our yellow wallpapers are perfect for any interior style. Opt for mustard yellow wallpaper to add warmth and depth to a contemporary
living room
, or choose a pastel yellow wallpaper to bring a soft and serene touch to a
bedroom
. Shop our diverse range of yellow wallpapers and infuse your home with a sunny and cheerful atmosphere!
Experience the exceptional quality of Voyage Maison's yellow wallpaper. Our
designer wallpaper
s are printed onto ultra-wide paper, ensuring seamless application and minimal waste. With a luxurious matte finish, our wallpapers preserve the intricate detailing of the original artwork. This provides you with a top-quality finish that will add a touch of sophistication to any room.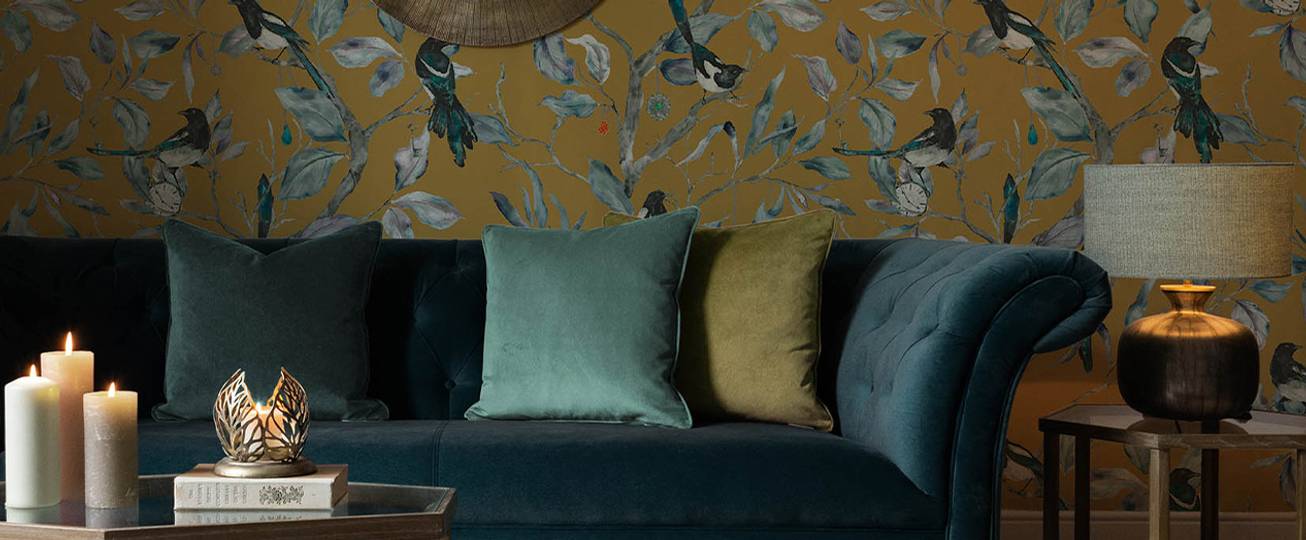 Yellow Wallpapers at Voyage Maison
Brighten up your home with our stunning collection of yellow wallpapers, designed to add a touch of happiness and sunshine to any room. Our wide range of yellow wallpaper features plains, textures, and prints, all crafted on high-quality wide-width paper.
Whether you're looking for a subtle uplift or a bold accent, we have the perfect yellow wallpaper to suit your interior needs. Why not get inspired by the latest trends?
Mustard Yellow Wallpaper
Our mustard yellow wallpaper is a bold and vibrant choice, perfect for adding a touch of warmth and energy to your space. Pair it with neutral or dark décor to create a stunning contrast that exudes sophistication. Style it with sleek
modern furniture
and metallic accents for a contemporary look, or mix it with rustic elements for a cosy and inviting atmosphere.
Pastel Yellow Wallpaper
Embrace the soothing charm of our pastel yellow wallpaper. Its soft and delicate hues bring a sense of tranquillity to any room, making it ideal for
bedrooms
and living areas. Combine it with light-coloured furnishings and natural textures for a calming and airy aesthetic. Add some indoor plants to complete the serene ambience and bring nature indoors.
Plain Yellow Wallpaper
For a classic and versatile option, explore our plain yellow wallpaper collection. The simplicity of the solid colour allows you to get creative with your décor. Use it as a backdrop to showcase bold artwork or mix and match it with other patterns for an eclectic look. With
plain wallpaper
, the possibilities are endless, and you can easily adapt it to suit your unique style.
Yellow Pattern Wallpaper
Our yellow pattern wallpaper boasts an array of designs, from elegant damask patterns to delightful
florals
. Use
damask designs
in living areas to add a touch of sophistication and luxury. Yellow floral wallpaper is a fantastic choice for bedrooms, providing a charming and dynamic element to these spaces. Pair them with white or neutral accessories to let the wallpaper stand out as a statement piece.
With our diverse selection of
designer wallpaper
, you can effortlessly create an interior that reflects your style. Discover the perfect yellow aesthetic wallpaper that resonates with your vision, and elevate your home decor to new heights. Shop with
Voyage Maison
and create designer interiors today.