The holiday season is upon us, and it's time to transform your home into a festive wonderland that perfectly suits your interior style. At Voyage Maison, we understand the importance of creating a cosy, elegant, inviting atmosphere for your Christmas celebrations. In this guide, we'll explore different ways to decorate your home for Christmas, tailored to your unique taste. Whether you love simplicity, nostalgia, or a bold finish, we have you covered this season with our Christmas Collection!
---
How to Decorate for Christmas: Choose your Theme
The first step in your Christmas decorating journey is to carefully consider the theme that resonates most with you. Your chosen theme will set the tone for your entire holiday décor. Whether you love traditional charm, dream of a winter wonderland, embrace the adorable allure of Cottagecore aesthetics, or prefer the opulence of a winter fairytale, we've got you covered. We have the perfect pieces to bring your vision to life! Let your home reflect your unique style, making this holiday season truly special.
Traditional Christmas
If you have a deep appreciation for the timeless allure of Christmas, a traditional theme is the perfect choice. The classic colours of reds, greens, and whites will infuse your home with a sense of warmth and cherished nostalgia.
To begin, adorn your living room with our exquisite ready-made or made-to-measure curtains, setting the stage for a cosy ambience. Complement this with an array of soft, plump cushions, mixing richly woven wool cushions with plush velvet ones in shades of red and cream for a tactile and stylish finish.
When it comes to decorating your bedroom for the holiday season, velvet throws in rich green and burgundy reds are the perfect addition. These throws will envelop your space in comfort and elegance. To complete the Christmas transformation, add a green glassware vase, bringing a touch of holiday magic to your bedroom's décor.
If you're drawn to the idea of a timeless and classic Christmas, look no further than our Traditional Christmas Collection. From sumptuous soft furnishings to enchanting accessories, each piece is thoughtfully designed to infuse your home with the cherished holiday magic you hold dear .
Winter Wonderland
If your heart finds comfort in neutral tones, embracing cosy textures and a hint of modern trendiness, then the Winter Wonderland theme is calling your name. This style radiates a sense of tranquillity, combining it seamlessly with a touch of modern charm. It's the perfect choice if you want to create an atmosphere that beckons you to unwind and revel in the beauty of the season.
The clean, neutral tones that define the Winter Wonderland style work in perfect harmony, encouraging an immediate sense of warmth and comfort. Your living room becomes a haven of relaxation, where you and your loved ones can come together and enjoy the holiday season. To elevate this serene ambiance, wrap yourself in our luxurious throws, expertly designed to offer both style and warmth. In serene, neutral colours, they're not only a feast for the eyes but also a source of comfort during the chilly winter months. Paired with our stylish footstools and ambient lighting, they provide the ideal spot for you to kick back and enjoy the season's festivities.
As you decorate for Christmas with Voyage Maison, you'll create a serene and cosy atmosphere that welcomes your guests with open arms. The Winter Wonderland theme captures the essence of modern comfort and elegance, ensuring that your home is a destination for relaxation and celebration.
Cottagecore
If you're aiming for a Christmas that exudes a charming and adorable country flair, the Cottagecore theme is the ultimate choice. This style encapsulates the essence of a countryside Christmas with its delightful blend of neutrals, pastels, and playful prints that capture the magic of the season.
As you embark on your Cottagecore journey, be prepared to embrace the soothing beauty of soft colours and a touch of whimsy. Our country-inspired prints, both on canvases and framed prints, reflect the quaint charm of rural life, while our beloved wooden sculptures add a touch of rustic elegance to your décor. To create an inviting and cosy atmosphere, drape your furniture with pastel throws and patterned scatter cushions that evoke the feeling of a snug, country cottage. The gentle pastels bring forth a sense of comfort and nostalgia, making your home a haven for holiday celebrations. For a perfect finishing touch, explore our country floral curtains. They not only provide privacy and insulation but also blend seamlessly with the Cottagecore aesthetic, adding a touch of elegance to your space.
By embracing the Cottagecore Christmas theme, your home will come alive with the charm of a countryside Christmas, inviting warmth and nostalgia into every corner.
Winter Fairytale
For those who lean towards a darker, more maximalist style with expressive and fantastical prints, the Winter Fairytale theme is your answer to the perfect Christmas décor. This theme promises to transform your home into an enchanting realm, where drama and opulence reign supreme.
At the heart of the Winter Fairytale theme lies bold opulent fabrics, rich embroidery, and statement colours and prints. To create this feeling of luxury in your home, adorn your space with statement footstools, printed doorstops, and embroidered cushions. We love using velvet drapes to provide warmth and darken the space, whilst incorporating ambient lighting for a contrast of light. When creating your Winter Fairytale, think of each décor piece as a work of art. Each addition should evoke a sense of wonder and amazement in your guests.
Our magnificent Anahita Collection is infused with a sense of fantasy and boldness that is tailor-made for the holiday season and the Winter Fairytale style. The expressive patterns and rich colour palettes bring a touch of extravagance to your home, making it an enchanting place to celebrate the season. With our Winter Fairytale collection, your holiday gatherings will be transformed into a magical experience, where every corner of your home is a testament to the festive spirit.
Tips on How to Decorate Your Home for Christmas for the Perfect Finish
Decorating for Christmas is a delightful task, and at Voyage Maison, we have the perfect pieces to help you create a magical holiday atmosphere in your home. Once you've decided on your theme it's time to think about how to use our products to get the most magical finish! We've put together a list of our favourite tips and tricks on how to decorate your home this Christmas.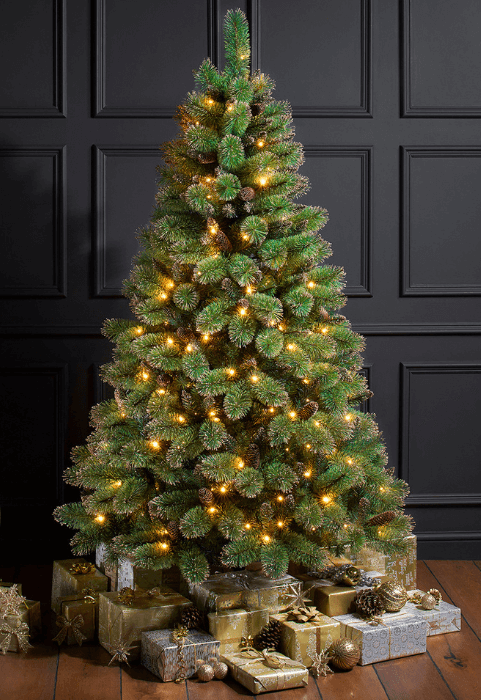 Layer Soft Furnishings: To create a cosy and inviting holiday atmosphere, layer your furniture with sumptuous cushions and throws. Rich colours and textures will make your space feel warm and inviting. Combining different textures in your soft furnishings, like velvets and wools, can create depth and visual interest, adding a touch of luxury to your décor.
Ambient Lighting: Invest in ambient lighting to set the right mood. Soft, warm lights create a welcoming and snug environment. Consider using fairy lights, candles, or table lamps.
Match Tree Lights: Coordinate the lighting on your Christmas tree with your room's ambience. Use warm lights for a classic and inviting feel or cool lights for a more contemporary and trendier look.
Accessorise Thoughtfully: Add a touch of elegance with glassware vases, filled with festive decorations. Incorporate natural foliage like holly and pine cones for a traditional touch.
Incorporate Greenery: Incorporate fresh greenery like wreaths and garlands for a natural, festive fragrance and an authentic touch to your Christmas décor.
Coordinate Colours: Choose a colour palette that complements your home's interior. Coordinated colours will make your decorations feel like a seamless extension of your space.
Personalise with Ornaments: Hang personalised ornaments that tell a story or have sentimental value. This adds a unique and heart-warming touch to your Christmas décor.
As you embark on your journey to style your home for Christmas, we've provided you with tailored inspirations that cater to your style. Whether you find yourself captivated by the timeless allure of a Traditional Christmas, the serene elegance of a Winter Wonderland, the charming country-inspired Cottage Core, or the captivating and fantastical Winter Fairytale, at Voyage Maison, we offer the perfect pieces to illuminate your home during the holiday season.
So, as you immerse your living spaces in the enchantment of Christmas, revel in the most wonderful time of the year. We're here to enhance your holiday experience, allowing you to create a cosy and stylish ambience that welcomes cherished memories. And don't forget to explore our Christmas gifting collection, where you'll discover the ideal presents to make this season truly special. Here's to a magical, heart-warming, and stylish Christmas!
---
---
---
---