Creating a perfectly tailored atmosphere in your living space begins with the right curtains. To ensure a flawless fit that complements your interior design, accurate measurements are essential. This guide will walk you through the simple yet crucial steps of measuring for curtains. Whether you're dressing a window with an existing curtain pole or track, or starting from scratch, our instructions will help you achieve a stylish and seamless look that transforms your space.
Measuring the Width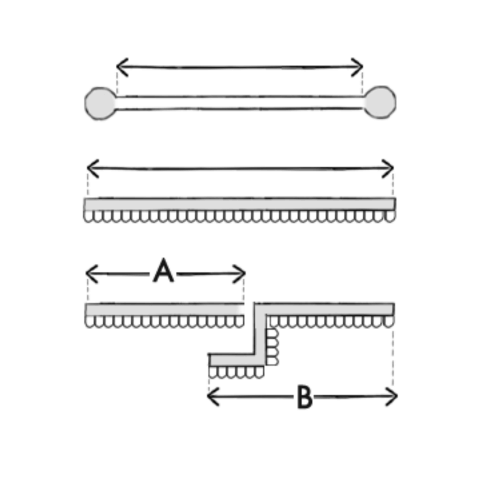 Obtaining your width measurement is a straightforward process. You'll want to measure the complete length of your curtain pole or track, as illustrated below. If you haven't set up the pole or track yet, you can measure the width of your window recess and include an additional amount to account for overlap, (we suggest adding 30-40cm to your recess width to ensure proper coverage on the sides of the window).
Measure the Width of a Curtain Pole
Measuring your curtain pole is easy, simply measure the entire length of the pole in between the end caps.
Measure the Width of a Curtain Track
For a standard curtain track, you should simply measure the entire length of the track.
Measure the Width of Overlapping Tracks
If your track happens to have an overlap in the centre, how you measure the width is slightly different. You will need to measure the full length of track A, and then do the same with track B. Once you have measured both tracks, you should add both measurements together to give you your total width.
Please Note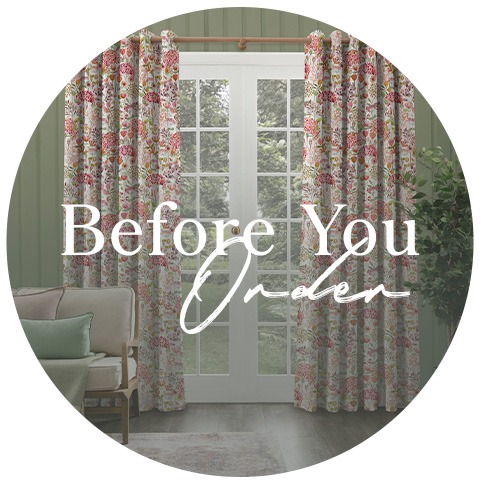 Please Note: To ensure proper fullness and allow for a generous gather, we make all necessary adjustments and calculate how many widths of fabric you require. Please DO NOT make these adjustments yourself.
---
Measuring Drop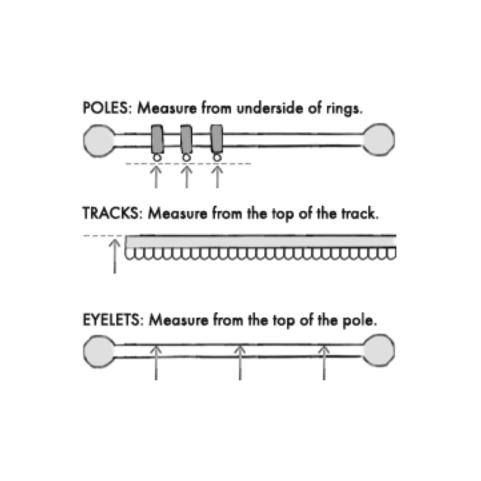 Moving on, it's time to measure the drop of your curtains. The method you use for measuring the drop will vary based on the type of curtain heading you've selected and whether you have a track or pole. Further details are provided below to guide you in this process.
Measuring the Drop for Pencil Pleat or Pinch Pleat Curtains with a Pole Heading
If you're using a curtain pole to hang your blinds, the measurement should be taken from the bottom side of the rings to the desired endpoint of the curtain. Typically, this endpoint would be either the floor or the windowsill.
Measuring the Drop for Pencil Pleat or Pinch Pleat Curtains with a Track Heading
If you have a curtain track, the measurement should be taken starting from the top of the track, extending down to the point where you intend the curtain to end.
Measuring the Drop for Eyelet Curtains
If you are measuring for eyelet curtains, you can simply measure from the top of the pole, down to where you want your curtains to finish. Our range of eyelet curtains accommodate poles with diameters of up to 40mm.
Choosing the Right Length for your Curtains
The length of your curtains is ultimately up to you and depends on what look you are trying to achieve. You should consider your décor style as well as practicality and functionality. Let's explore your options!
Floor Length Curtains
Curtains that extend to floor length create a refined look by hovering 1cm above the floor, instantly elevating the ambience of any room. Whether they conclude slightly above the floor or gently graze it, these curtains enable you to fully showcase your chosen pattern, ensuring it remains uninterrupted and unaffected by horizontal breaks or folds.
Short Curtains
An exceptionally functional choice, shorter curtains prove to be a great fit for households with a bustling pace. Typically positioned either 1cm above or 15cm below the windowsill, they effectively stay well out the way of any mucky pets or adventurous little ones. This makes them a convenient solution to your shading needs.
Pooled Curtains
An incredibly stylish option, pooled curtains cascade an additional 10-20cm beyond the standard floor length, fashioning a charming 'pooled' look upon the floor. This style exudes a sense of romance and ease, although it's most suitable for curtains that experience minimal manipulation. Each time you draw them open or shut, a bit of adjustment will be required to ensure their visual appeal. This length is particularly well-suited for weighty, textured fabrics such as velvet and jacquard, benefiting from the way the arrangement captures and reflects light.
---
---
---
---