Back to top
Headboards
Introducing our exquisite collection of headboards, designed to transform your bedroom into a luxurious haven. Choose from a wide selection of headboards in single, double, king, and super king sizes, catering to every preference. Crafted with care, our headboards are available in an array of linen and velvet fabrics. This allows you to indulge in unrivalled comfort and style. From elegant plains to captivating prints, our diverse range of designs ensures there's something for every taste. Elevate your sleeping experience with our upholstered headboards, expertly crafted to provide the perfect blend of support and aesthetics. Shop our
bedroom range
today and relax in style.
At Voyage Maison, we take immense pride in the exceptional quality of our headboards. Each piece is meticulously crafted and upholstered with the utmost care, ensuring a flawless finish and long-lasting durability. Our skilled artisans pay meticulous attention to detail, using premium materials and techniques to create headboards that are not only visually stunning but also built to withstand the test of time. Whether you desire headboards tall or large, our quality collection boasts an assortment of options that will seamlessly complement any interior. Explore our range of designer headboards and create a focal point that embodies elegance and sophistication in your bedroom.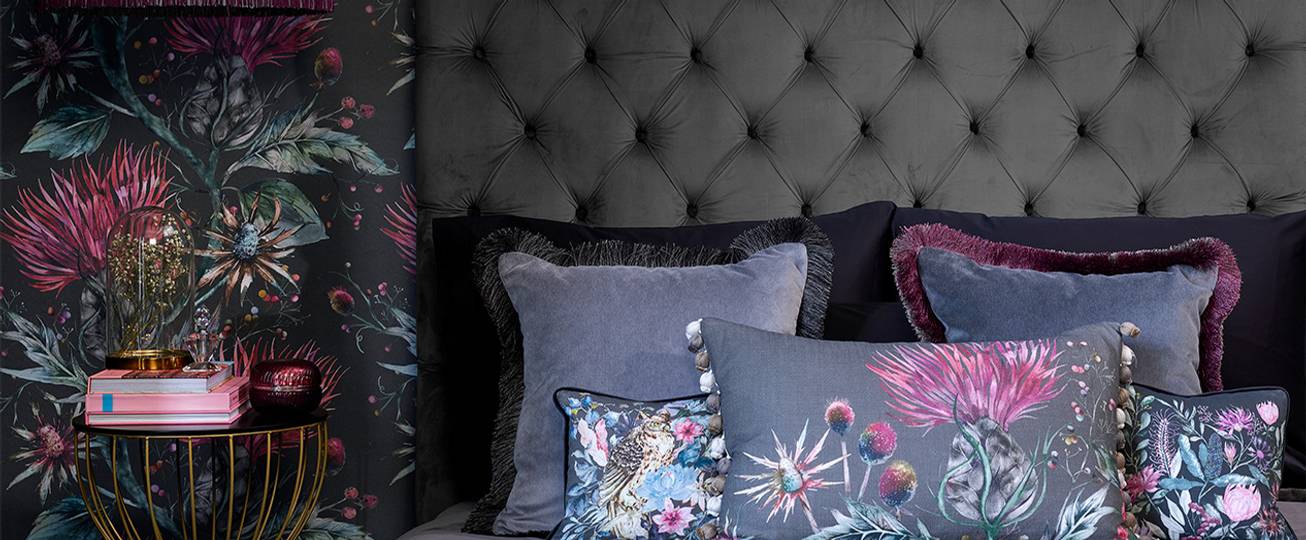 Double & King Size Headboards
Shop our exquisite collection of headboards, meticulously crafted to elevate your bedroom's aesthetic. Each headboard is expertly upholstered using premium quality linen and sumptuous velvet fabrics, ensuring a luxurious and inviting feel. Our headboards boast a harmonious blend of statement prints and elegant textural plains, adding a touch of sophistication to any sleeping sanctuary.

Indulge in the opulence of our headboards, designed to cater to various bed sizes and preferences. Whether you seek a double headboard or a king-size headboard, we have the perfect fit for your bed. With their high headboard design, our pieces make a bold and striking statement, becoming the focal point of your bedroom. The meticulously crafted upholstery provides both comfort and style, creating a cosy ambience that invites you to unwind and relax. Fall in love with the allure of our upholstered headboards, especially the luxurious velvet headboard options, which exude an air of elegance and refinement. Experience the epitome of sophistication and comfort with our stunning collection of headboards.