Back to top
Black Lighting
Discover our extraordinary black lighting collection, designed to bring a touch of sophistication and allure to your home. With an array of black light shades and lamp bases, our collection offers a diverse selection for all decor styles. Experience the transformative power of our high-quality lights as they infuse your living spaces with a warm and inviting ambience. Elevate your home's atmosphere with our elegant black lighting solutions. Explore our range and find your perfect lighting match today! 
Black lighting is the epitome of contemporary elegance, perfectly suited for homes that embrace modern and minimalist styles. Its sleek and sophisticated design effortlessly blends with clean lines and bold architectural elements, adding a touch of drama and refinement. The mood it creates is one of understated luxury and ambience, casting a soft, warm glow that instantly elevates any space. The quality of our lighting is unparalleled, crafted with meticulous attention to detail and using high-quality materials, ensuring long-lasting durability and timeless appeal. Adding black lighting pieces will transform your home into a haven of refined style and exquisite taste.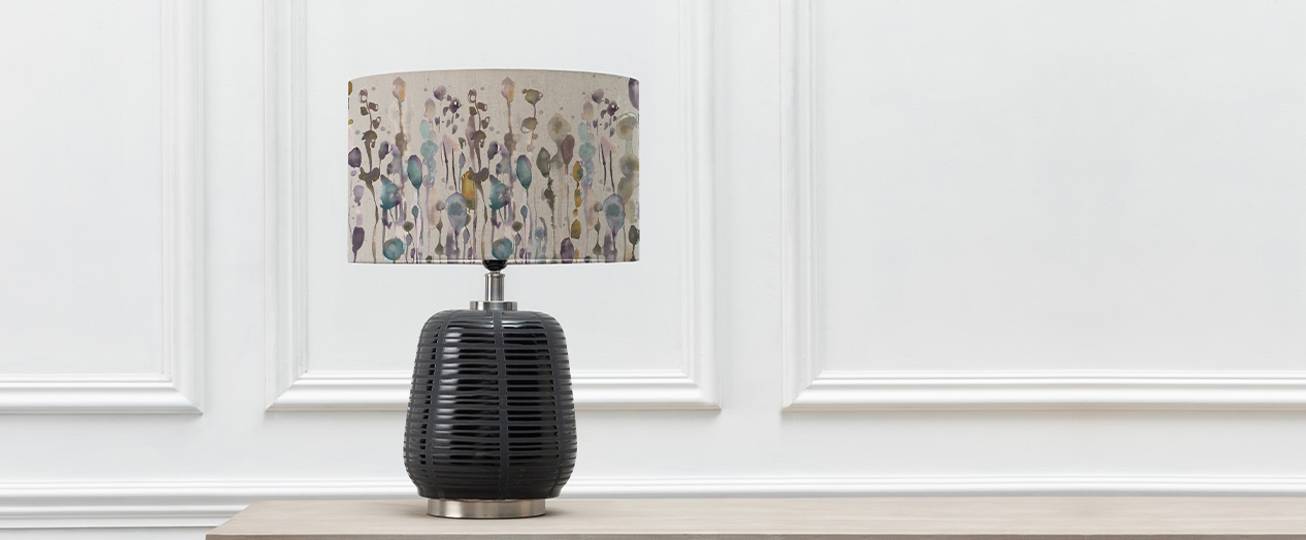 Black Lamps and Lampshades
Explore a wonderful selection of Black Lighting at Voyage Maison! Elevate the ambience of your living space with our curated selection of table lamps, floor lamps, and lampshades. Each is finished in striking statement black. These black lighting pieces are designed to be the perfect accent colour. They infuse any modern-day home with a bold contrast that complements the ever-popular neutral tones.

Our black table lamps and ceiling lights bring a touch of modern elegance and sophistication to any room. Whether you choose a black lamp base or opt for the allure of black lampshades, the effect is transformative. Embrace the versatility of these pieces by pairing them with darker hues for a rich and luxurious atmosphere, or introduce them to a brighter colour scheme for a striking focal point that seamlessly integrates with any décor.

Indulge in the timeless appeal of black ceiling lights and lamps featuring a stylish collection of stylish lampshades. With a wide array of designs and shapes to choose from, you're sure to find the perfect black lighting piece that effortlessly enhances your living spaces.

Make a bold statement with your lighting choices and immerse yourself in the captivating allure of black lighting. Shop now to find your perfect piece and redefine the atmosphere of your home with modern sophistication and timeless elegance.